As 2015 comes to a close and finally the snow's fallen here in Maine. Here's a chance to win a bundle of fairy goodies to celebrate the publication of my newest book Where Do Fairies Go When It Snows? written by Maine author, Liza Gardner Walsh and published by Maine's Down East Books. It's been lovely to work on such a local project and Liza and I have been on the road visiting books stores, Christmas fairs, festivals and libraries. Everywhere the books (like the fairies) have flown off the shelves!
SO HERE'S WHAT YOU CAN WIN!
A signed/personalized copy of the book. A signed/personalized print AND an original drawing from the book. All you have to do is leave a comment on this blog entry telling me what your fairy resolution is for the New Year and share this post online (please tag me in the post if possible). I will draw the lucky winner on Monday January 11th 8pm EST. Please only USA entrants (sorry!).


BOOK - PRINT - ORIGINAL DRAWING SHOWN BELOW
I feel blessed to have illustrated such a fun book that makes children and adults a like smile. So here's a gallery with some of the places we've visited and the smiles we've seen a long the way!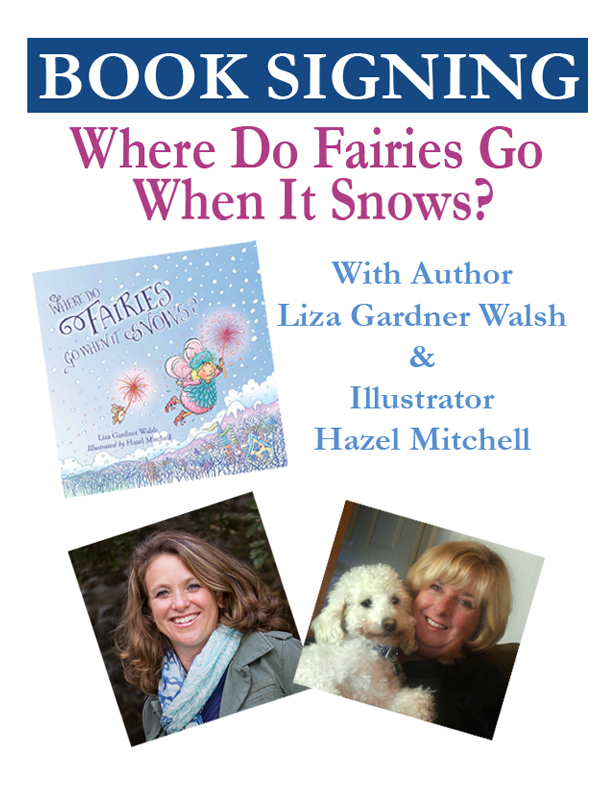 WHERE DO FAIRIES GO WHEN IT SNOWS? is available where all good books are sold on and offline.
REVIEWS: An alluring title invites young readers into an exquisitely illustrated world where the magic of snow and fairies meet. Set in the forest, under the winter moon, the first page beckons the imagination with enchanting imagery and written possibilities. With a few turns of the page, this story offers vibrant images of fairies, flowers, and sunshine in spring... followed by summer celebrations and a leafy, acorn- filled fall. Bursting with questions, color, and coziness... (along with a wee bit of fairy dust), Where do Fairies go When it Snows is a delightful read aloud—especially for those who love mystical little creatures who nap under mushroom caps. From questions such as: 'Do fairies hibernate like bears, hedgehogs, and raccoons?' to 'Ways You Can Take Care of Fairies in the Winter,' this story, written by Liza Gardner Walsh and illustrated by Hazel Mitchell, is a celebration of joy, wonder, and what-ifs. An alluring title invites young readers into an exquisitely illustrated world where the magic of snow and fairies meet. Set in the forest, under the winter moon, the first page beckons the imagination with enchanting imagery and written possibilities. A Mr. Arachnid Library favorite for illustrations.

"...whimsically seeks out answers for the most inquiring little minds. Text and illustrations flow together in light and joyful tones that will stir even the youngest of imaginations. Walsh lovingly shares ideas in the back of her book to stimulate excitement and caring adventures that will help our little fairy friends get through their winter wonderland and return to delight us yet again. Where Do Fairies Go When It Snows? not only provides a fun story time, but allows the opportunity to explore growth beyond our own personal needs and imagine how we might help another.". .. ."Kid-tested and judge-certified exceptional youth literature that parents will approve and kids will devour!" (Story Monsters Ink)

Liza Gardner Walsh has written an enchanting tale that will have youngsters thinking and wondering and using their imaginations...The absolutely delightful illustrations by Hazel Mitchell are the icing on this sweet, picture book's cake! (San Francisco Book Review)

"This is a simple, fun story full of imagination and beautifully illustrated with vibrant, detailed pictures. Children will love to find the fairy taking a snail for a walk, the bat sleeping in a tree, the rabbit waiter serving strawberries and the ladybug balancing a cup on its head." (CentralMaine.com)

DON'T FORGET TO ENTER THE GIVEAWAY!

Toodles and a very happy new year ...
Hazel